This online course is a video series of recorded talks presented by:
Elizabeth Yurth, MD, ABPMR, ABAARM, FAARM, FAARFM
Co-Founder & Medical Director of Boulder Longevity Institute
Dr. Yurth covers the latest research and protocols in the exciting new world of peptide therapies in a way that provides value to those that are brand new to peptides as well as those already engaged in these amazing treatments.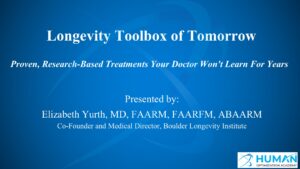 4-part lecture series.  Each learning video is 40-60 min:
Lecture 1 : How To Heal Like A 20 Year Old…After 40
Innovative Peptide Treatments For Age-Defying Healing & Recovery
Lecture 2 : Attaining Top Performance At Any Age
How To Use Peptides For Superhuman Performance Gains
Lecture 3 : Building Your Sharp, Durable Brain
How To Use Peptides for Cognitive Protection & Recovery

Bonus Lecture : New Tools In Lifestyle Design
How to use peptides for weight loss, libido, appetite control, mood, wrinkles and even beautiful skin.
Elizabeth Yurth, MD is the Medical Director of the Boulder Longevity Institute which she co-founded in 2006. The Boulder Longevity Institute specializes in advanced, research-based longevity medicine including treatments such as Bioidentical Hormone Replacement Therapy and Regenerative Peptide Therapy. Dr. Yurth is double board-certified in Physical Medicine & Rehabilitation and Anti-Aging/Regenerative Medicine. As a specialist in Sports, Spine, and Regenerative Medicine, Dr. Yurth has a Stanford-affiliated Fellowship in Sports and Spine Medicine, and a dual-Fellowship in Anti-Aging and Regenerative Medicine (FAARM) and Anti-Aging, Regenerative and Functional Medicine (FAARFM) through the American Academy of Anti-Aging Medicine (A4M).
Dr. Yurth has been selected as one of the 25 mastermind physician fellows in SSRP (Seeds Scientific Research and Performance) which allows her to stay abreast and teach others in the emerging field of cellular medicine.
An active athlete herself, Dr. Yurth has consulted with numerous sports teams including the San Francisco 49ers and the Stanford University women's basketball and soccer. She has served as a Physician for the San Jose/Cleveland Ballet. Dr. Yurth resides in Boulder, Colorado with her husband and five children.