Our Story
As we age we often feel we are losing our edge in everything from athletic endeavors to brain function to the bedroom and the office.  It doesn't have to be that way.  Elizabeth Yurth, MD has been treating patients 25-plus years in her orthopedic practice specializing in sports, spine, and regenerative medicine.  Frustrated that her patients weren't getting the answers they needed to fully recover, gain back their health and be active, Dr. Yurth co-founded Boulder Longevity Institute (BLI) in 2006 to focus on Regenerative, Anti-Aging and Longevity medicine.
Human Optimization Academy is a big step forward in bringing the life-changing information available inside BLI's clinic walls to a broader audience.
What We Do
The Human Optimization Academy pairs research with the insights of nationally recognized medical experts who help people on a daily basis to optimize their health, performance, recovery, and overall quality of life.
By staying on the forefront of Functional and next-generation Regenerative Medicine, we are committed to bringing you the latest safe, effective, cutting edge, medically managed treatment options – years before they hit the mainstream.
Join us and learn how you can play an active role in your health – moving from passenger to pilot in your journey to optimal health.
Meet Dr. Yurth
Dr. Elizabeth Yurth is the Co-Founder and Medical Director of Boulder Longevity Institute, where she has been providing Tomorrow's Medicine Today to her clients since 2006.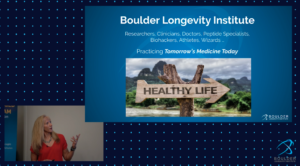 The Boulder Longevity Institute specializes in advanced, research-based longevity medicine including treatments such as Bioidentical Hormone Replacement Therapy and Regenerative Peptide Therapy. Dr. Yurth is double board-certified in Physical Medicine & Rehabilitation and Anti-Aging/Regenerative Medicine. As a specialist in Sports, Spine, and Regenerative Medicine, Dr. Yurth has a Stanford-affiliated Fellowship in Sports and Spine Medicine, and a dual-Fellowship in Anti-Aging and Regenerative Medicine (FAARM) and Anti-Aging, Regenerative and Functional Medicine (FAARFM) through the American Academy of Anti-Aging Medicine (A4M).
Dr. Yurth has been selected as one of the 25 mastermind physician fellows in SSRP (Seeds Scientific Research and Performance) which allows her to stay abreast and teach others in the emerging field of cellular medicine.
An active athlete herself, Dr. Yurth has consulted with numerous sports teams including the San Francisco 49ers and the Stanford University women's basketball and soccer. She has served as a Physician for the San Jose/Cleveland Ballet. Dr. Yurth resides in Boulder, Colorado with her husband and five children.
Our Clinic and Supplement Partners

Dr. Elizabeth Yurth founded the Boulder Longevity Institute (BLI) Clinic in 2006 with a passion and commitment to finding a better way to treat her patients, using the kind of diagnostic testing and treatment protocols that so many of her patients just couldn't find anywhere else.  With our acute awareness of and emphasis on research, our services and recommendations are constantly evolving and growing with the latest scientific and clinical discoveries and updates.

As the BLI Clinic continued to grow, Dr. Yurth and her team were tasked with finding and vetting the products and suppliers needed to complement the protocols and recommendations they were giving to their patients. Over the years, they researched, discovered and developed a robust database of products,which they felt met the standards of quality and care they provide their clients at BLI. BLI's Supplements Partner, OHPHealth, is the brainchild of these years of research and applied, clinical experience. Built to bring together these findings, OHP serves to centralize all the supplements, vitamins,products, tests and more that we recommend into one simple to navigate storefront.
Our belief at is that with access to the right products and education, every person can take back control of their health and truly optimize their human potential.